Social Media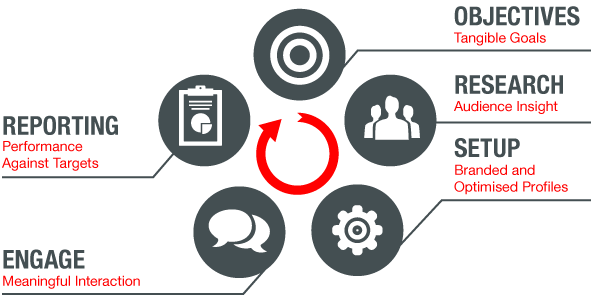 WHAT DOES YOUR SOCIAL MEDIA PRESENCE SAY ABOUT YOUR BUSINESS?
Social media is revolutionising the way customers engage businesses. With access to information at the click of a button, people now conduct research to see what others are saying about products and services. They seek advice from online communities and look to see how businesses communicate with their customers. This very second, there are millions of conversations happening online and we're here to help you get involved.
With Facebook on the verge of 1 billion active users and Twitter with over 500 million, social media is a marketing opportunity that cannot be ignored. Social media platforms allow you to target people based on demographics such as age, geographic location and personal interests. You can now place your product or service in front of real people with a genuine interest for what you are offer.
With the number of social networks increasing everyday, the social sphere can be tricky to navigate. It can be difficult to know where to start or which social platforms will produce the best results. In order to capitalise on social media efforts, clear objectives and measured strategies must be applied. Social media can be very time consuming and produce underwhelming results if you don't engage in the right activities. Businesses must be creative, consistent, patient and dynamic with their approach.
Search Engine Experts' passionate social media marketers can help you:
Engage customers in a cost effective manner
Build personality for your brand
Enhance your credibility
Regularly interact with your target market
Create loyalty, advocacy and word of mouth
Organise highly targeted offers and promotions
Social media marketing is not just about getting "likes" or followers. We'll help you achieve real business objectives like increasing sales, awareness and credibility. Our social optimisation service will help drive traffic to your site through social bookmarking, blogs, videos and utilising the most relevant social platforms.We'll help position you as 'The Authority" in your industry by producing and distributing content that is useful and valuable. We'll help you build and army of loyal advocates. People who will actively spread the word and promote your business to everyone in their network. True word of mouth… on steroids!
If you want to join the online conversation and leverage the power of social media, give us a call today.