Our Process
OUR BULLET PROOF PROCESS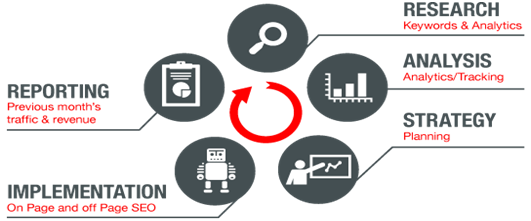 RESEARCH
Every successful mission starts with research and careful preparation. Before we commence a campaign, we conductextensive research into your business, your competitors and your target market in order to gain strategic insights and formulate a winning strategy. We want to understand your business as if it was our own.
ANALYSIS
A thorough analysis is one of the most important steps when it comes to SEO. We'll do a complete audit and, through analytical data, we'll identify areas of opportunity to maximise the potential of your website. We'll establishkey strengths and weaknesses and uncover the most effective keywords to drive traffic and generate sales.
STRATEGY
As the saying goes, proper planning prevents poor performance. Commencing an SEO campaign without a strategy in place is like trying to hit a target with a blindfold on. At Search Engine Experts, we don't leave anything to chance. We'll devise a plan to set solid foundations for high search engine rankings and to ensure that everything stays on track.
IMPLEMENTATION
Implementation and on-page optimisation are crucial to the performance of your website.Search engines utilise on-page optimisation as a way of ascertaining how relevant your website is for the keywords you are trying to rank. The software that search engines use to crawl your website takes into account a number of factors including title tags, header tags, meta descriptions, internal linking, content, keyword density etc. We'll ensure that your site is perfectly structured for high performance.
REPORTING
SEO Reporting is absolutely necessary to gaugehow a campaign is tracking. Good SEO is not just about high rankings and an increase in traffic. It is about understanding how users navigate through your website and analysing where the traffic is coming from. Reporting indicates whetherthe SEO strategy is working and allows us to easily identify areas of improvement. We believe in complete transparency and won't try to confuse you with difficult data and useless statistics. Our monthly reports are concise and easy to interpret so that you can rest assured that your campaign is headed in the right direction.
Call us today to find out why our process delivers exceptional results.